It's the truth. Watercolour canvas DOES NOT ABSORB WATER.
I know, I know. A more moronic thing I have not come across. Soooo, because it does not absorb water, you have to smear all your paint on the canvas in a thick and muddy fashion. Which completely destroys the transparency of it all which - to me - is the very *point* of watercolours.
I experimented on two blocks today. One covered in canvas and one covered in Absorbent Ground.
The Absorbent Ground I think will work *really* well. At this point I still like paper better but I'm pretty sure that's just because I'm used to the paper. I think if I do a few more works on the AG I'll positively love it.
So, examples of today's work...
The blue and orange flowers (posted first) were done on CANVAS (I have a whole pad if anybody wants to waste their time...). I have included a photo of the exeperimental work and then a close up of the layering...you can see how muddy it is (and wet-on-wet is IMPOSSIBLE to accomplish).
The purple and yellow flowers were done on Absorbent Ground. Again I have included the overall work and close ups on the layering - much more crisp and clear than the canvas.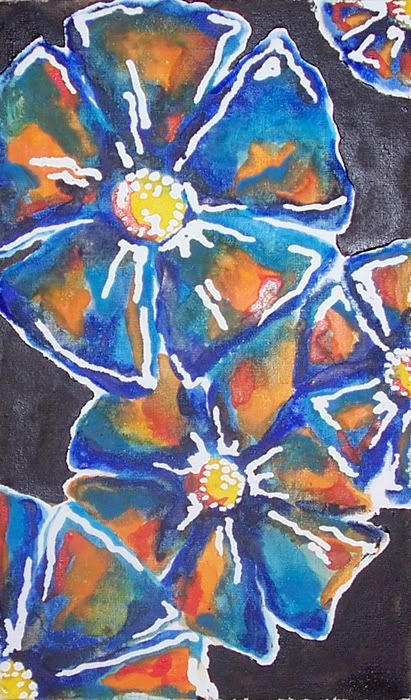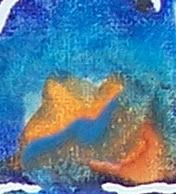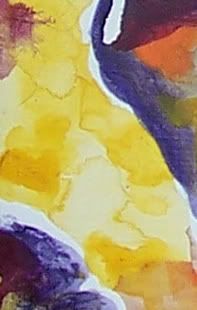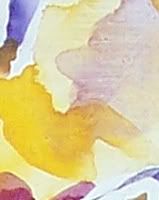 Tomorrow I will be painting a human figure on the AG. I look forward to it and am sure it will work out well. I have it composed so I will draw it up tonight.
I also can't wait to apply varnish to the AG works.
With love,
Sarah.