I went into the store to return Christmas gifts to afford a heater and blanket.
Unfortunately I did not get a heater because of...
THIS.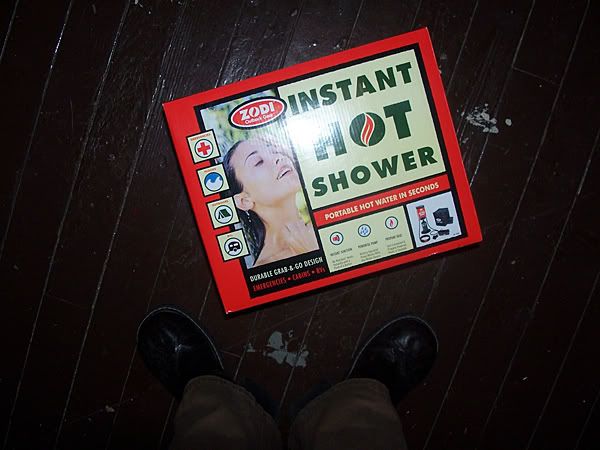 WHAT?!
*scream*
That's right! A little rig-a-ma-roo so that...dum dum da dum....for the first time in this house, HOT SHOWERS CAN BE HAD!
Let's see...that'll be the first time in over six months that I'll have some sort of heated water that hasn't been boiled in a pot.
It'll be my THIRD hot shower in over six months.
And now...propane and God willing...
I can have one every day!
(or every other, beause I'm still quite poor)
No more cold baths in a cold bathroom!
No more soaking in my own filth!
No more soaking in hairdye chemicals!
No more freezing wet ones on goosebump skin!
I may *actually* (touch wood because I'm wary) be able to have hot showers again!
*screams*
Although - ironically - the water bill is due tomorrow.
I may have to return this beast to pay for it.
*squinty eyes*
Iyeeeeeeeee!
HAPPY NEW YEAR EVERYBODY!
(I'm dreadfully excited)